LRS-2 (Low Resolution Spectrograph) Instrument Summary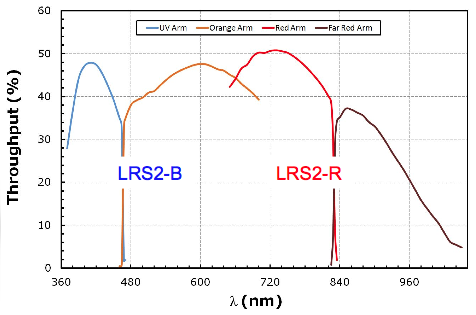 New Intregral field spectrograph based on the VIRUS design covering 370-1050nm

Actually 2 spectrograph units: LRS2-B and LRS2-R, each with its own integral field unit

Each spectrograph has two channels (4 channels in total) for simultaneous coverage.

LRS2-B simultaneously covers from 370-470 and 460-700 nm at a resolving power of 1900 and 1100 in each channel, respectively.

LRS2-R simultaneously covers from 650-842 and 818-1050 nm at a resolving power of 1800 in each channel, respectively.

Each spectrograph (B and R) has its own 12"x6" Fiber integral field unit (IFU) with lenslet coupling to give full fill factor on sky; the B IFU is located 100 arcseconds away from the R IFU on the sky.

0.6" lenslets on sky.

98% fill factor within IFU, so no dithering required.

Low scattered light

15% peak throughput on the sky

Funded by University of Texas at Austin McDonald Observatory and Penn State University.

Commissioned in Spring 2016

For target acquisition and auto-guiding notes, see the performance page

For determination of where the LRS2 IFUs are located in the HET setup images please see the LRS2 fiber layout page.
Last updated: Wed, 26 May 2021 14:12:19 +0000 stevenj