LRS2 Position Angle and Fiber Layout
The LRS2-B and LRS2-R IFU feeds are located 100" from each other in the direction 90 degrees from the altitude line at center of track. The short axes of the 12"x6" LRS2-B & LRS2-R IFUs are in the direction of the parallactic angle at center of track.
It is not possible at this time to specify an offset angle.
We have a script available to overlay the LRS2 IFU footprint on a PanSTARRS image for a given coordinate on the sky: https://github.com/sjanowiecki/HET_lrs2_finder.

Or you can use the older lrs2rho cgi script to determine the orientation of LRS2 on the sky for any coordinates. You can find more about the parallactic angle and how it is related to the DEC and optimal Az by looking at the HET Object Observability pages.

The World Coordinate System (WCS) has generally been determined although we continue to improve this. Please see the WCS page. for information on the WCS for the HET and see LRS2 fiber layout page for information about how to place the LRS2 foot print (using ds9 regions files) onto the acquisition setup images.

The image below show the layout of the LRS2 fiber bundles among the VIRUS units at the HET focus.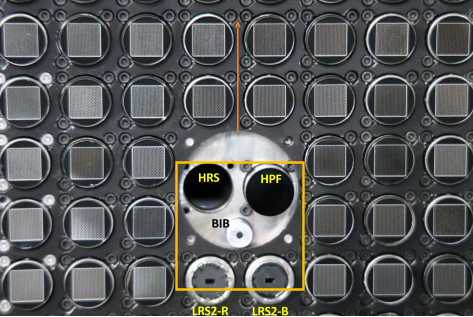 Central part of the HET focal surface looking at the fiber feeds mounted in the input head mount plate (IHMP). A number of VIRUS IFUs are seen along with the feeds for LRS2-B and LRS2-R and the fiber feed for HPF. The BIB (boresight imaging bundle) is a small field imaging fiber bundle that defines a location on the IHMP so that the IHMP and the ACAM can be tied together and checked. The seat for the future HRS feed is also indicated.

The LRS2 IFUs have 6" x 12" format oriented as shown

Parallactic angle (Tracker Y axis) is up in this figure, as indicated by the dark orange arrow; it is perpendicular to the long axis of the LRS2 IFUs

The orange square indicates the field of view of the acquisition camera (ACAM) which is fed by a pick-off mirror that can be deployed in front of the IHMP.

LRS2-B input head is mounted in IHMP slot 056 and the feed for LRS2-R in 066




To help the PI understand our setups and also to understand the results they get from the LRS2 we have provided time stamped regions files which can be used along with setup images from the HET's acquisition camera (ACQ, sometimes labeled ACM or ACAM). In the example image below we have displayed the IFU footprints of both the LRS2-R IFU (in red) and LRS2-B IFU (in blue) region files on a setup image from the ACQ camera with a bright star on the LRS2-R position.

Each time that the ACQ camera/mirror or the IHMP are moved the relationship between the LRS2 IFU positions and the ACQ camera changes slightly. The following table contains the regions files and the date in which those were installed or valid. (note that these have not been updated in some time, but the changes are extremely minor and these regions files are a good representation of the current alignment)






These regions files can be loaded into ds9 under the "Region" pull down menu and selecting "Load Regions..." or on the command line with -regions





Last updated: Thu, 08 Dec 2022 14:14:58 +0000 stevenj